Welcome to the official Noel Freidline website.  Our apologies if you were lured into one of the unofficial Noel Freidline websites.  I don't believe any of those actually exist, but if they do, please accept our apologies in advance for any confusion.
So lets address the ELEPHANT in the room. 
If you have visited us any time in the last several years you probably left discouraged and unimpressed.  Because NOTHING WAS UPDATED!!!!  I wish we had a good excuse.  I don't.  But we do have a sincere apology. 
Since we are almost 20% into the 21st Century, I thought it would be a good idea to maintain a working and useful website. 
I don't blame you if you are skeptical.....
But check out the CALENDAR. 
And check out the NFQ Audio Player
Or go to the AUDIO page. 
And the PHOTO GALLERY. 
In the meantime, THANK YOU SO MUCH for checking us out, or giving us another chance. 
ALSO, we have a new album out. Here is the super neato and ultra-hip retro album cover.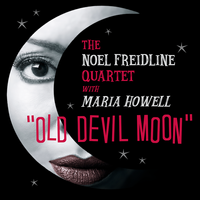 We are really proud of this recording.  It features the unparalleled Maria Howell on vocals, the lovely and talented Juan Rollan on sax, the not-quite-as lovely but definitely as talented Billy Thornton on bass, and the lovely, talented and unparalleled Al Sergel on drums.
If you click on "AUDIO" you can stream the entire album right off of our site. 
We will have hard copy CDs available the beginning of July, but we are taking pre-orders now.  Pre-orders will ship AUTOGRAPHED at the beginning of July. You can pre-order a hard copy at our STORE.
It is available RIGHT NOW to purchase and download at Itunes or OldDevilMoonCD.com.
Or visit our SONGWHIP page, which lists everywhere "Old Devil Moon" is available to either purchase or stream.
John, Paul, George and Ringo. No last names needed. The Beatles were that iconic, innovative and influential. In less than ten years they redefined pop and rock and pointed the way as to how music would be created for the next 40 years. Not the least of their contributions may be a lexicon of songs that can stand up to reinterpretation and recasting into most any genre. Their masterful melodies and strong harmonic approach makes their music a perfect jumping off point for jazz musicians. The Noel Freidline Quartet presents an evening of masterful reimagining of some of the Fab Four's most well known songs.
see site for ticket info